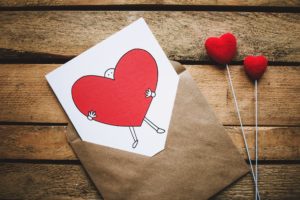 This month makes us reflect on how much we love our children. Of course, we love them unconditionally year-round, 24/7, but when Valentine's Day comes knocking, we can help but get a little extra "mushy." What could be better than chocolate candies, sentimental cards, and all those extra kisses? It makes the wintertime just a little warmer.
This year why not surprise your sweetie pie with unique ways to show how much you care. It doesn't have to be anything extravagant or over-the-top. Just remember it's the little things that count the most. These are the moments your child will remember fondly as they get older. Make Valentine's Day even more of a day to adore by doing one or all of these cute things to express your unending love for your child.
Slip a Note Into Their Lunchbox
When you pack your child's lunch, leave a little note that will make them smile as they eat their sandwich and snacks. Perhaps a loving poem or a few words that describe just how wonderful they are. You can draw a cute picture or add some Valentine's Day stickers to make it pop. Be creative and fun and make lunchtime the most loving time of day.
Sweet Treats at a Special Time
We all want our kids to enjoy a nutritious breakfast, but give them one special day to indulge. And with all the chocolate that's available, why not start the day with something sweet? Along with their normal breakfast, let them start the meal with a chocolate truffle or some other type of candy they love. It's just one day and one small treat, but your child will be thrilled to taste something that's normally off-limits first thing in the morning.
Valentine's Themed Dinner
Go the extra mile come dinnertime with a meal that's all about this special day. Get crafty and think about how you can incorporate the theme into every dish. Cut the bread into heart shapes. Arrange the veggies to spell "LOVE." Serve red colored foods like tomatoes, red bell peppers, marinara sauce, etc. Make dessert extra yummy with a homemade cake decorated with hearts, cupid, and an extra serving of love!
Bedtime Stories
Pick out a bedtime book that celebrates love. Here are some Valentine's Day themed books the kids will enjoy.
Have a Happy Valentine's Day! We'd love to hear how you celebrate with your kids.
For more information like this, please come back and visit All My Children's blogs.
By: Melissa A. Kay