Celebrate Purim and Enjoy the Weekend with Friends, Family, and the AMC Team
Sunday, March 10th is for celebration!
We welcome you to have a blast with the AMC family for a special Sunday from 11AM-4PM. The excitement will be endless with inflatables, clowns, cotton candy, popcorn, and other food for sale, as well as preschool tours every hour on the hour. The kids will love seeing their friends and neighbors and you'll delight in all there is to do.
Remember, Purim is coming soon, so this pre-Purim bash will get families in the celebratory spirit, something you won't want to miss.
Location:
83-10 188th Street
Jamaica Est., NY 11432
Parking is free and so is admission.
We can't wait to see you there and celebrate the big bash!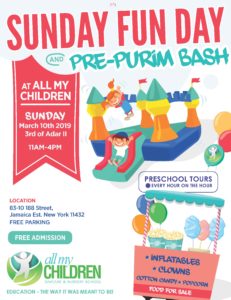 In the meantime, check out this delicious Easy Hamantaschen recipe from allrecipies. They're too good to pass up.
At All My Children we offer a holistic approach to education inspired by nature.
We see our role as not only educating the children of today, but as cultivating the leaders of tomorrow. By providing children with a nurturing and responsive environment to discover, learn, grow, and realize their potential, our children are empowered with school and life readiness skills.
Drawing upon their sturdy ethical and educational roots, we believe our children can lead the way towards a better tomorrow.