There's so much going on at AMC. Here are some pictures and more info from our latest activities to pair with your recent newsletter.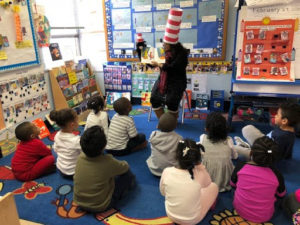 164th Place – AMC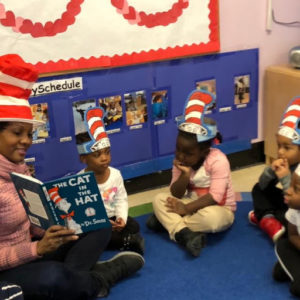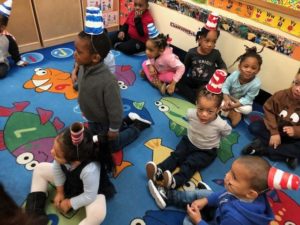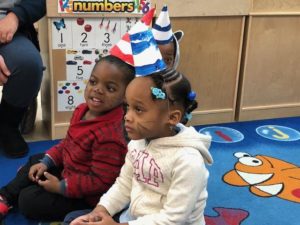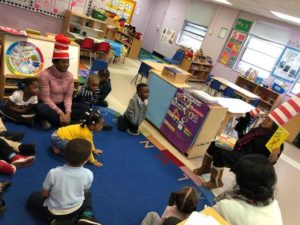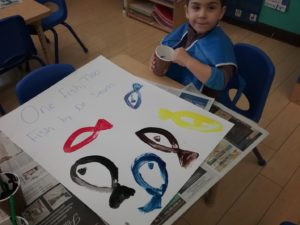 108th St. AMC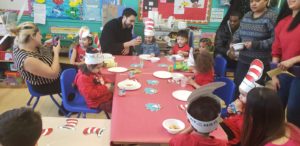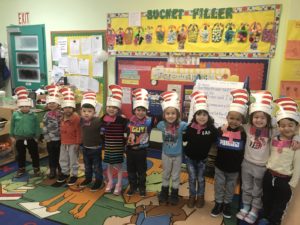 Rego Park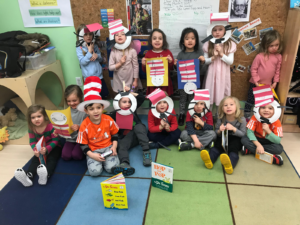 UWS: The children in the Play classroom had fun gluing tissue paper to create a hot air balloon Dr. Seuss hat!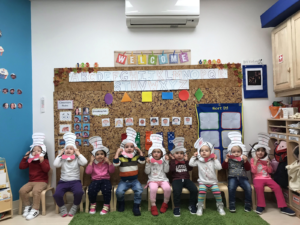 "Happy birthday, Dr.  Seuss, from the Imagine Class at the UWS."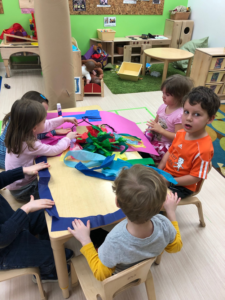 The children in the Play classroom had fun gluing tissue paper to create a hot air balloon Dr. Seuss hat!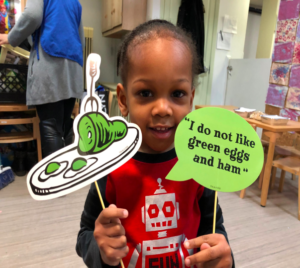 Celebrating Dr. Seuss at Ridge: 
This week Ridge had a "Seussical" time celebrating Dr. Seuss. Our activities were based on the funky stuff that happens in Dr. Seuss' books. Our Hut and Teepee classes read "One Fish, Two Fish, Red Fish, Blue Fish" and identified colors and personality traits of the fish. The children then made their own colorful fish by painting or using dot makers on paper plates.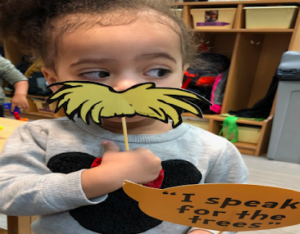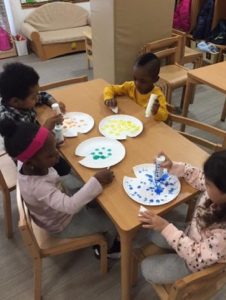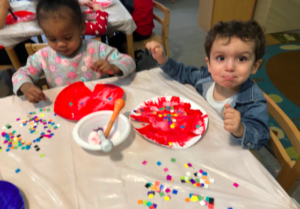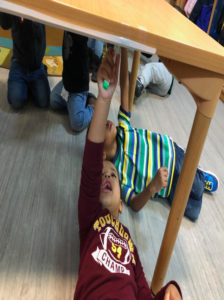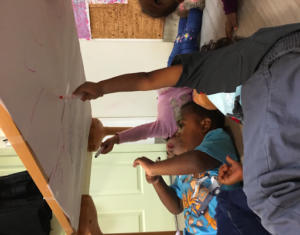 Rego Park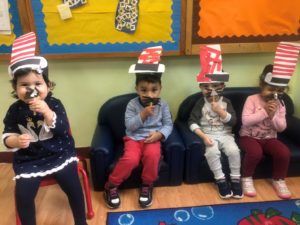 MORE INFO ABOUT AMAZON SMILE:
On your first visit to the AMAZON SMILE website, you will be prompted to select an agency from their list of eligible organizations. AMC is listed as All My Children Day Care located in Brooklyn, NY. Amazon will remember your selection, and save it under your account. For every eligible purchase you make on smile.amazon.com, the foundation will send a donation to our school.
To select our school for donations, please visit:
https://smile.amazon.com/hz/charitylist/ls/UZ7BF19MJ8JQ/ref=smi_ext_lnk_lcl_cl
For more information about Amazon Smile, please visit the main page:
Thank You in advance for your support and for enabling us to improve our school for your child.
MORE PICS FROM TOOTH FAIRY: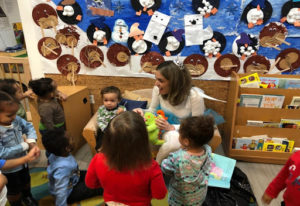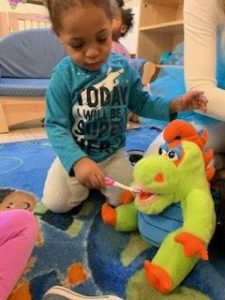 MORE ABOUT CHESS:
In Lesson #4, we unlock the pawns. As King Chomper and King Shaky travel to meet "King Crab" and see how all his little crabs move, pawns are captured in the front and to the side (staying on the same color).
Now we know the three rules for pawn movements. They can move: 1 square forward, 2 squares forward the first time they move, and they can capture forward and to the side.
MORE PICS GETTING READY FOR PURIM: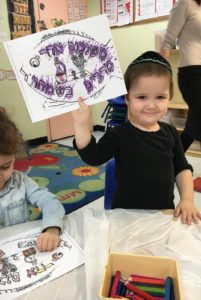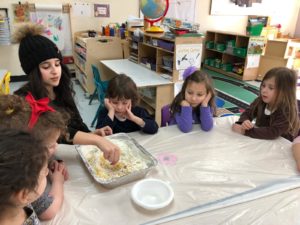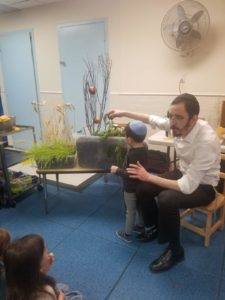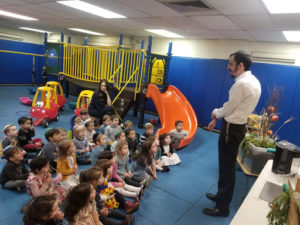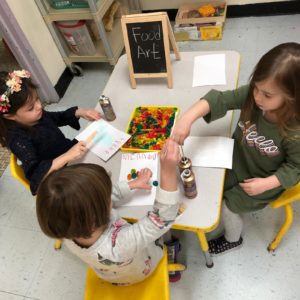 MORE UWS NEWS:
The students at the Upper West Side (UWS) are having so much fun learning about "Light" this month. Northern Lights, shadows, natural and artificial light, and even famous painters that used light; such as Michelangelo were all analyzed. The children are greatly enjoying exploring light and shadows with flashlights and the light table.It is wonderful to observe and distinguish the amazing varied activities all the teachers are creating to engage the children in this remarkable theme. The teachers also prepared various exciting projects to highlight and celebrate Dr.  Seuss' birthday, on Friday, March 1st, with activities, book readings and more. A ballet teacher was invited to come and introduce ballet to our 2-3 year old class as well.
The remarkable after school activities include chess with our devoted instructor, Steve, and the Soccer Shots program of which both activities are featured in the latest newsletter. The children are beginning to understand the concept of self-control and how to establish goals.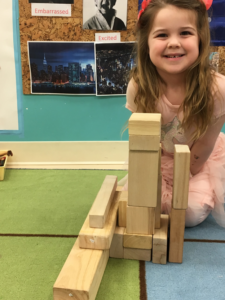 "Wow! I made a skyline with blocks in the Hello Class at the UWS."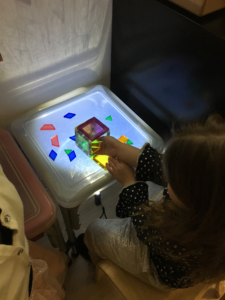 "We explored lights and shadows in the Hello Class at the UWS."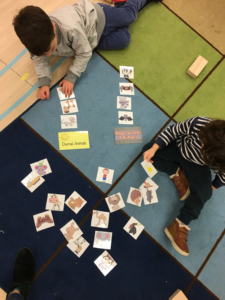 "We sorted nocturnal and diurnal animals in the Hello Class at the UWS."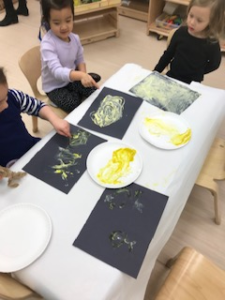 "We created the stars and the moon with paint in the Smile Classroom at the UWS."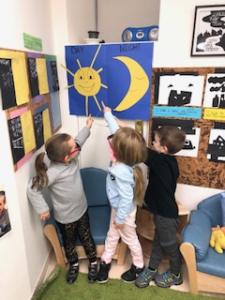 "We wrote the words day and night in the Smile classroom at the UWS."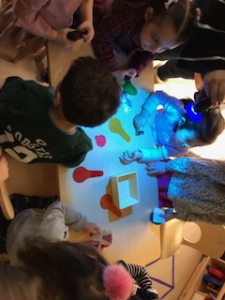 "We created a blue light using a flashlight in the Smile Classroom at the UWS."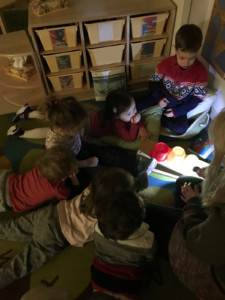 "We were finding circles and shadows of light together in the Play Classroom at the UWS."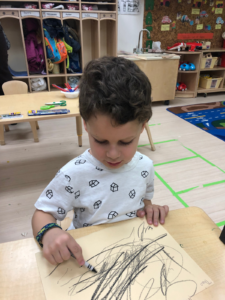 "Theo drew his version of A Starry Night by Vincent, van Gogh, in the Play Classroom at UWS."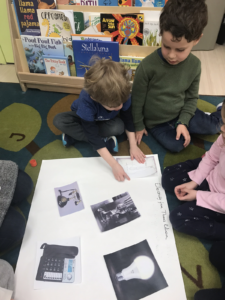 "We had fun creating a poster about light and electricity in the Play Classroom at the UWS."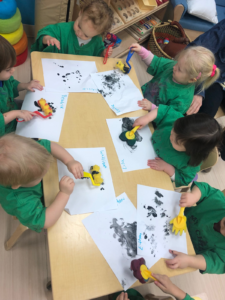 "We created an image of darkness in the Imagine Class at the UWS."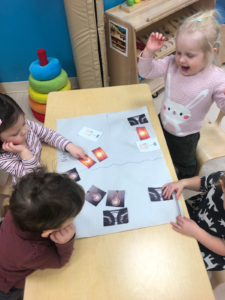 "We sorted pictures of natural light and fluorescent light in the Imagine Class at the UWS."