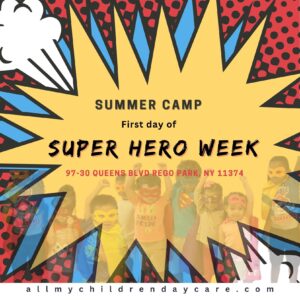 Summer 2023 at AMC – Highlights
Let's recap the fun we had this past summer!
Superhero Day – First Day of Camp at Rego Park
Check out our little superheroes from the first day of camp at All My Children Daycare & Nursery School in Rego Park Queens.
Super Hero Week started off with a bang! Art projects, outdoor water play, making new friends, creating lifelong memories, and so much more!
Check out these photos below. Click on any photo below to enlarge it.
Wild Wild West at Rego AMC
Wild West Week at AMC Rego was so much fun. The kids enjoyed a treasure hunt, searching for golden nuggets, and making gold slime!
See the video on Facebook.
Fourth of July at Ridge St. AMC
The Igloo and Teepee classes at Ridge St. AMC made patriotic fireworks art with their teacher, Tracy. We had a special 4th celebration of Independence Day.
New Playground at Sutphin Blvd. AMC
Check out the children enjoying our newly renovated playground at Sutphin Blvd. in Jamaica Queens.
---