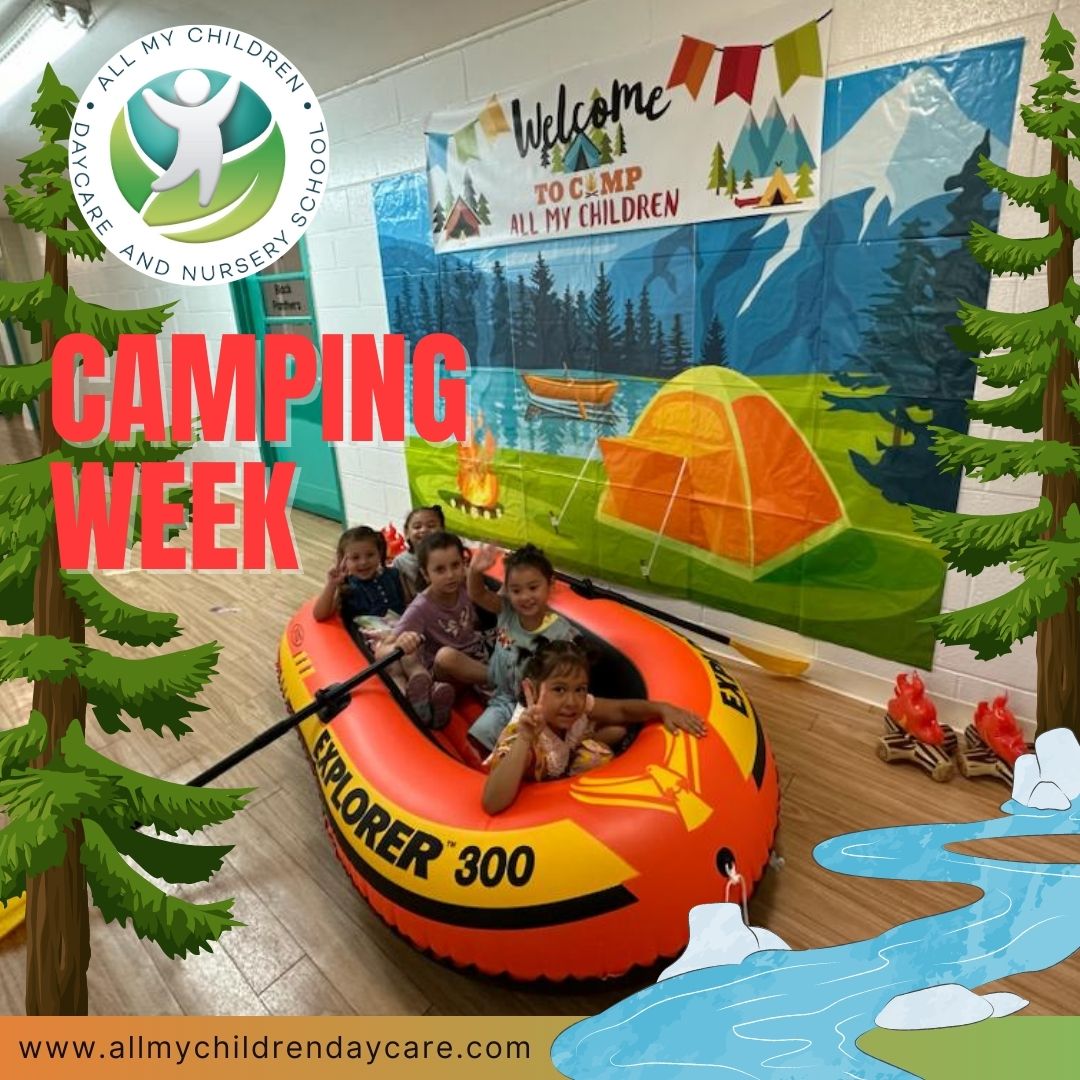 Summer 2023 at AMC – Skill Building
Building Concentration and Social and Communication Skills at 188th
Check out all the fun with water table play and art time at All My Children Daycare & Nursery School on 188th Street, Jamaica Estates, Queens.
Water play enhances concentration and focus while building children's social and communication skills.
Check out this adorable video below:
Rogers Ave. Cognitive, Social, and Creative Skills w/ Outdoor Play
Check out our happy campers cooling off during outdoor play with water and bubble fun! Children don't just play for fun; they play to learn. Research shows that playing helps develop core cognitive, social, and creative skills. The benefits of outdoor play are infinite.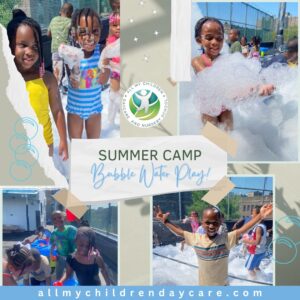 Rogers Ave. Playdough – Sensory Learning, Creativity, Emotional Management
Playdough is a wonderful sensory learning experience for children. As the children shape the playdough, they're thinking creatively. Playing with playdough has a wonderful calming effect on children as they learn to manage their emotions and focus their energy in a positive way.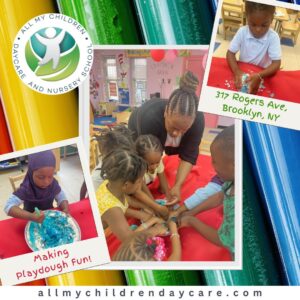 Rego Park Camping Week 
Look at these happy, smiling faces!! We had a great time learning about camping and engaging in pretend play. Hallway water rafting brought the outdoor camping experience indoors at All My Children Daycare & Nursery School in Rego Park Queens.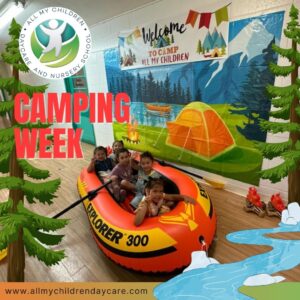 Rego Park Camping – Fine Motor Skills
Camping week was a big hit at All My Children Daycare & Nursery School in Rego Park Queens. Our little campers made tissue paper collage lanterns and learned about cutting with scissors, pasting and gluing, and coloring to perfect their fine motor skills.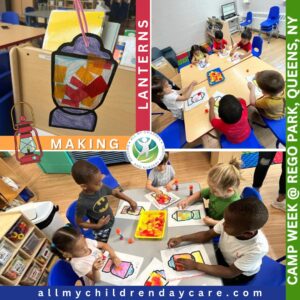 Rego Park Bubble Play – Motor Development, Visual, Sensory, Social Skills
Outdoor bubble play at AMC Rego Park was so much fun. Playing with bubbles provides children with motor development, visual, sensory, social, and communication skills, and so much more!
Check out this short video below:
Rego Park Block Play
Playing with small blocks can increase children's ability to understand sizes, shapes, and patterns. Block play can also lead to increased skills in counting, adding, subtracting, and sorting. We made our own towers with small blocks and counted how many blocks we used to build our towers at our Rego Park location.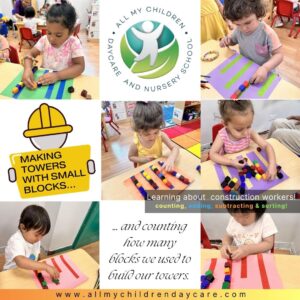 Jamaica Estates Superhero Fingerpainting – Fine Motor Skills and Sensory Play
Finger painting develops children's fine motor skills and is a great way to explore and learn through sensory play. The children feel the cool and squishy texture of the paints and experiment with colors and patterns. We are all about encouraging creativity this summer at All My Children Daycare & Nursery School in Jamaica Estates, Queens.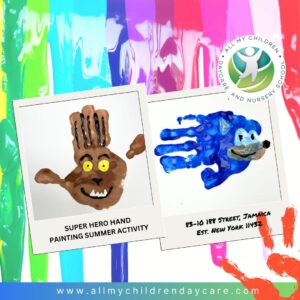 Crown Street Water Play
Check out the toddlers at AMC Crown Street, Brooklyn, enjoying the sun and fresh air during sprinkler water play!
---