Winter Happenings At AMC
So much is going on…here's a taste of what we've been up to.
Creating Mindful Students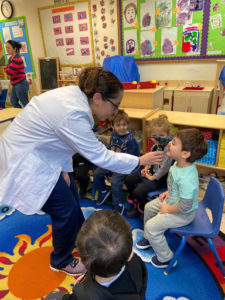 THANK YOU COMMUNITY HELPERS! We enjoyed a wonderful month exploring Community Helpers. We learned about all types of people who assist us in our community, and we even met a few of them.
We are grateful to have such kind and brave helpers in our community. We are each a part of our community; we know that each one of us is important and we can be helpful to each other.
We also enjoyed our monthly visit to the AMC Library. We learned that books have lots of information which can inform us and make us smarter. When we are smarter, we can understand our choices, and implement the right decisions.
We listened to stories, heard about how books are made, and what authors and illustrators actually do. We even met the librarian and had so much fun in the 'World of Reading.'
Stay tuned for our next monthly update on our fun-filled days of learning and playing.
Where We Live:  by Lisa Grundborg, AMC Educational Coordinator 
The children focused on the following:
Homes are the places where we live
Animals and people have many different types of homes
Some animals live with people
People and animals make homes
All My Children #8:
This project was created by Iris in Ms. Greeny's UPK classroom at Rego Park. Iris is 4 years old.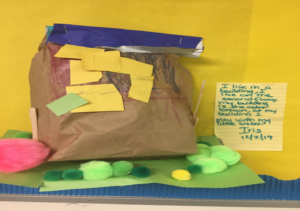 Iris stated, "I live in a building. I live on the second floor. My building is the color brown. At my building, I play with my little sister."
Here we are creating sky, ground, and water for our Transportation Museum. It is time to ride our Chugga Chugga Choo Choo! This was created by the Toucans Classroom with Ms. Pamela & Ms. Yaffa.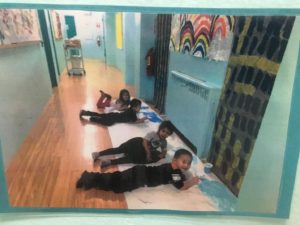 More At All My Children #8:
For the month of December, the home-school connection created the enhancement for the Children's Holiday Talent Show. In alignment with the Unit of Study, "where people and animals live" parents were asked to create dwellings with their child at home and bring them to school. Little did they know the creations would be used to decorate the stage for the children's holiday show.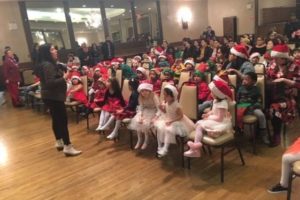 Robotics at AMC:
We have had a very exciting semester so far. The students have really taken to the program, and we are very happy to report that we covered much scientific ground. Until now, the students have learned about levers and the ability they provide in moving heavy objects.  They were introduced to basic electrical engineering, using circuit boards, and covered both AC & DC voltage. In a series of lessons, our little engineers experimented with gears and the transfer of kinetic energy, building vehicles, and transportation modules.  One of their favorites was the lesson on aerodynamics and the nature of flight. Without a doubt, the program is off to a tremendous start!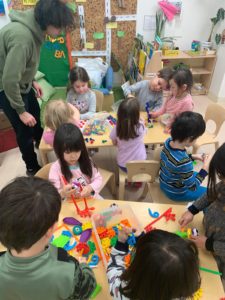 Fundations Enrichment Program:  
We started using the Fundations method at AMC UWS teaching the alphabetic principle of letter-sound correspondence. Another method  we will utilize to help our children prepare for kindergarten is to bring the Balanced Literacy method of Guided Reading which focuses on small group instruction that allows a teacher to work closely with each child. This method of teaching our emergent readers enables our children to work at their specific level, allows the teacher to tailor instructions to fit the needs of individual children, and provides an opportunity for children to feel successful because they are reading a text at the appropriate level.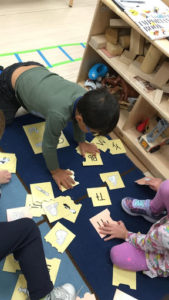 Thanks Karla!
All My Children recognizes Karla Aguilar for her outstanding devotion to her class and willingness to be a team player. And thank you for being a part of All My Children!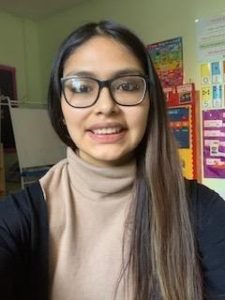 Saying Goodbye: 
Ms. Kia Roberson was a family worker par excellence. She was incredibly gifted at establishing positive relationships with coworkers and parents. Her vibrant spirit and infectious laughter filled the halls of All My Children Daycare #11. Ms. Kia will forever be in our hearts and minds. Ms. Kia, AMC #11 will never forget you!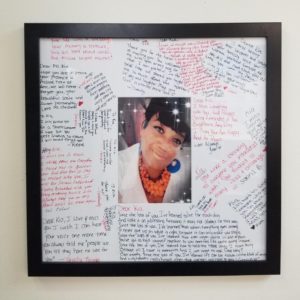 Dear Kia:
Your life was a blessing
Your memory a treasure
You are loved beyond words
And missed beyond measure
With love and adoration,
AMC #11
Holiday Celebrations @ AMC:
This past month, parents, staff, and children united and celebrated the holidays. We thank all our amazing families and staff for making AMC so special.
Thanks For The Visit!
Thank you to Queens Assemblyman Leroy Comrie and David Weprin who came to celebrate Thanksgiving with AMC. The children participated in an interactive drum show and an enjoyable Thanksgiving Feast.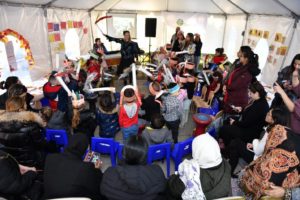 Rego Park visit from Police Officers, Sparky and Firefighters: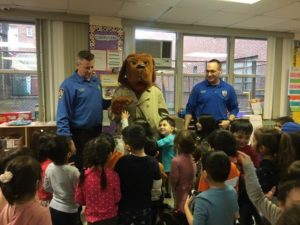 100th Day of school T-shirt decorating at Sutphin: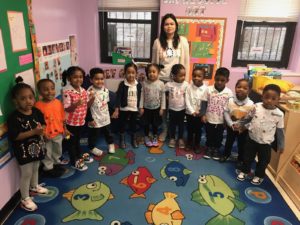 100th Day of School at AMC!
Counting Marshmallow Snacks in 10 units up to 100 & 100ths Day Group Picture: Nest Classroom in LES: 1 year-18 months: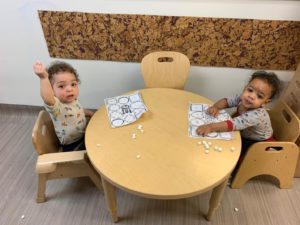 A Note From The Desk Of Susan Salinger, Director Of Admissions: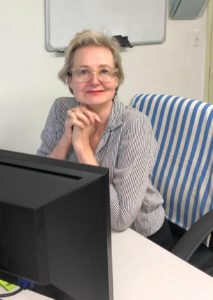 Summer Camp Registration Happening Now!
Hard to believe that Summer Camp Registration has already begun! We have an EXCITING program planned at All My Children Day Camp. Check your emails for the Summer Camp registration forms. We even have weekly options available.
Enhancing Your Child's Vocabulary
When you pick up your child at the end of the day, please don't forget to seek the Word Wall in your child's classroom. It will include concepts and vocabulary that are part of the monthly curriculum. Use the words in conversations with your child. The more he/she hears the new vocabulary, the easier it will be for your child to absorb and understand new concepts. Research shows that an enhanced vocabulary is considered a major building block towards literacy.
Again, please identify how we can help your child have a wonderful, successful school year filled with joy, hilarity, and wonder.
Warm Regards!
Susan Salinger, M.S. CCC-SLP, SBL
Director of Admissions / Education Supervisor
All My Children Daycare & Nursery School
Developing Curiosity, Creativity, and Community One Child at a Time.
MORE PICS ON INSTAGRAM! Follow us!
---