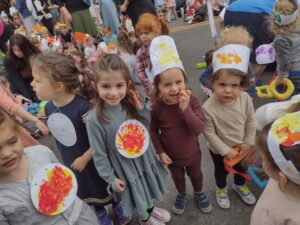 Site Highlights AMC
Site highlights at All My Children Daycare.
Site highlights at 69th Ave. AMC – Cinco de Mayo
At All My Children Daycare and Nursery School, in honor of Cinco de Mayo, the boys in Ms. Tatiana's class on 69th Ave, Forest Hills, are seen below working on their fine motor skills. They made their own piñatas while listening to traditional Mexican music. They did an amazing job!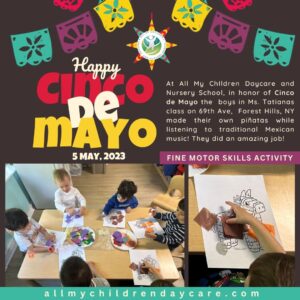 Lag Baomer at Lefferts & Crown
See more photos from Lag Baomer here.
Rego Park Mother's Day Cards
Click here to see the cards the children made for their mothers.
A visit from the Brooklyn Public Library. See more here.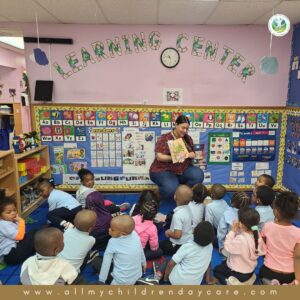 End of Year Celebrations!
End-of-Year Transition
The children prepared to transition to the next grade. In an effort to support the youngsters through this transitional phase, the teachers read books, sang songs, and invited children to prepare for their new classroom. Many children wore caps and gowns during their Stepping Up ceremonies. The children sang songs, and their accomplishments were celebrated. Certificates were given to each child.
We are so proud of our little "graduates!"
END OF YEAR celebration for our 3-year-old classes at All My Children Lefferts Ave, Brooklyn.
Sutphin Moving Up
69th AMC Moving-Up Ceremony!
Congrats to the children at their moving-up ceremony at 69th Ave, Queens. Infants are capable of so much, and we are so proud to be able to celebrate them and all their milestones! Thank you to our amazing teachers and staff.
Rogers Ave. Moving Up Ceremony
See more photos from Rogers HERE.
Mayfield Moving Up Ceremony
See more from Mayfield HERE.
Rego Park Moving Up
69th Moving Up Celebration!
Congrats to our 3K little learners! Check out the 3K Graduation at All My Children Daycare & Nursery School at 69 Ave. Forest Hills.

Ridge St. Moving Up
Check out these beautiful smiles. It was a happy day at our Ridge Street site. You did it!
Sabrina, Denise, Lisbeth, and Jen, our Ridge Street teachers, celebrate their students' accomplishments with a graduation ceremony and a photo shoot!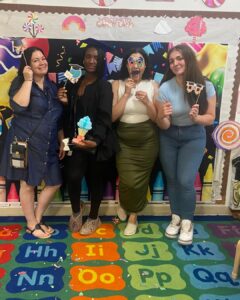 The children in Ms. Aliza's UPK classroom created end-of-year projects to help prepare them for their transitions to Kindergarten.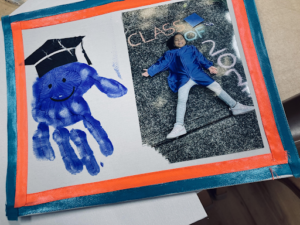 Utica Ave. Graduation
164th Moving Up
Father's Day at Rego
4K Father's Day field day fun at All My Children Daycare & Nursery School in Rego Park!
Flag Day at 85th!
Celebrating Flag Day! Our little learners each brought in a flag from their origin and shared it with the class.
Crown St. Graduation
July 4th at AMC
Check out the kids at Ridge celebrating July 4th. See more about July 4th HERE.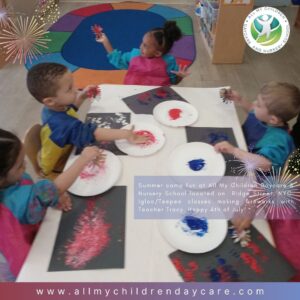 Lefferts Candle Lighting Event
---