More About the Latest Happenings at AMC
Here's more info about what's happening at AMC…
Juicing with Shmuli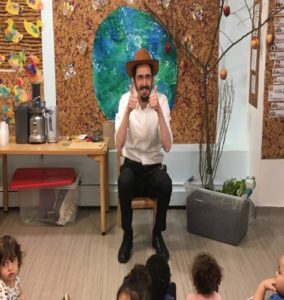 What fun we experienced when we had a chance to pick apples and dig up carrots. We juiced and then tasted them and focused on how appreciative we should be for the fruits and vegetables we get and all the steps involved until we obtain the food we eat (planting, waiting for rain, caring for plants and trees, harvesting, delivering to the store, parents/teachers going to the store etc.). Then we took a moment to think about how sad it would be if we didn't have all these things and how appreciative and happy we are that we do!
We are now on Amazon Smile!
AMC has teamed up with AmazonSmile to allow you to support your child's school at no extra cost to you!
Amazon Smile allows you to do your regular Amazon shopping while donating 0.5% of the total purchase price to an organization of your choice.
On your first visit to the website, you will be prompted to select an agency from their list of eligible organizations. AMC is listed as All My Children Day Care located in Brooklyn, NY.
Amazon will remember your selection and save it under your account, and then for every eligible purchase you make on smile.amazon.com, the AmazonSmile Foundation will make a donation to our school.
To select our school for donations please visit:
https://smile.amazon.com/hz/charitylist/ls/UZ7BF19MJ8JQ/ref=smi_ext_lnk_lcl_cl
For more information about AmazonSmile, please visit the main page:
http://smile.amazon.com/about.
Thank you for your support.
Check Out Our Summer Program!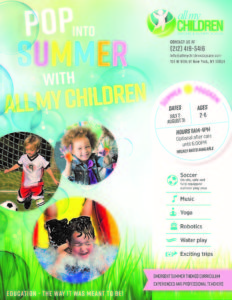 July 2 – Aug. 31; ages 2-6.
8AM – 4PM – optional after care until 6PM.
Weekly rates available.
Soccer, music, yoga, robotics, water play, exciting trips, and more!
---