Get Reading! Summer's No Time To Slack Off
We all know how important reading with and to our children is for their brain development. But come summertime, lots of parents tend to slow it down on the reading front. Since schedules are different and kids are doing other things, the books wind up on the back burner.
While it's perfectly OK to take a break and enjoy the time off, it's not a good idea to give up reading completely. Keeping up with vocabulary is essential, especially when the kids are not in school and reading isn't technically "required."
If you are trying to find ways to incorporate reading into your summer schedule, here are some ways to do so. The kids will appreciate some great books, and you'll know you're doing a good thing for their education.
Read At The Park
Take a book along when you plan a day at the park. The kids will tire out eventually, so sit under a shady tree and read together. Once the book is finished, you can have a snack or the kids can get back to playing ball. It's relaxing and refreshing.
Morning Wake Up
Most people go for bedtime reading, but why not crack open a book when the sun comes up? It's a great way to set the day off on a pleasant path, and will get your child in the habit of reading no matter the time of day.
Play Date Fun
Kids love play dates, but video games and running around can get repetitive. Why not suggest a book club for the neighborhood kids? They can come over, read aloud, and discuss their thoughts when complete. Parents can take turns hosting the kids, preparing snacks, etc.
How do you get your kids to embrace reading over the summer? We'd love to share your tips.
For more information like this, please visit All My Children's blogs.
By: Melissa A. Kay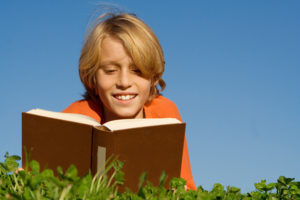 ---