Fall Happenings At All My Children
There's so much going on at AMC. Here's a recap of what we've been doing this fall. All the kids are having a great year so far, and we love sharing the info with you all. Enjoy, and stay tuned for more happenings to come.
Professional Development At AMC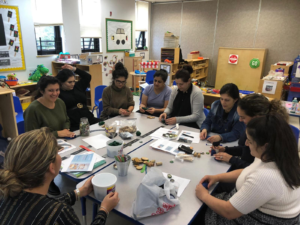 Our Educational Coordinators have been busy this month training staff on developing their social and emotional curricula. They collaborated and presented workshops focusing on positive behavior management as well as social and emotional learning. The teachers were presented with cutting-edge research on positive reinforcement, videos on how to successfully implement behavior management, and activities and role playing that reinforced each tool. The teachers are excited about implementing their new experiences within the classrooms to create a positive and supportive emotional environment.
AMC @ the UWS Exploring Pumpkins…
It's always fun to decorate pumpkins in the fall. The UWS kids had a blast using their creativity. Halloween was a hit too!
Message From Our Chess Trainer: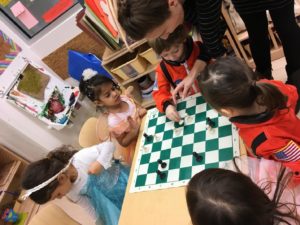 We have been experiencing the delight of learning and playing chess. Our children have learned how all the pieces move on the board. We just began playing the game in its entirety, and we are so impressed with the students' memories and skill levels! 
We begin each session with a story related to our lesson, we then do a few exercises on the chessboard, and we complete the session by engaging in a complete game. Each session ends with a quick recap of the day's lesson as we spend the last few minutes coloring an illustration of the piece we learned about that day. Shortly, we will begin discussing the basic strategy – what 'Chess At Three' calls "The Secret Missions." This group is so exhilarating, and I look forward to working with them next semester!
Robotics @ AMC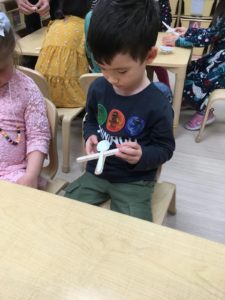 We have been enjoying a very exciting semester. Our Little Engineers have been enamored with the program, as we educate them from a scientific perspective. Until now, the students have learned about levers and the ability they provide in moving heavy objects. They were then introduced to basic electrical engineering using circuit boards which included both AC & DC voltage. In a series of lessons, our little engineers experimented with gears and the transfer of kinetic energy and building vehicles. The transportation module, one of their favorites, was a lesson on aerodynamics and the nature of flight. Undoubtedly, the program has experienced a tremendous start!
Ballet @ AMC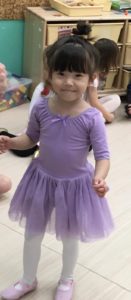 Our ballerinas have been dancing away on 85th. They are graceful and great at moving to the music.
A Nice Visit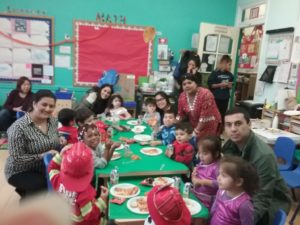 Our amazing parents joined us at AMC #3, 108 St., for some festive fun and smoothies.
Rego Park Celebrating Thanksgiving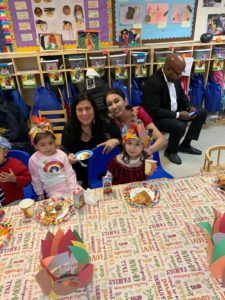 We had a Thanksgiving feast to celebrate Thanksgiving. The children learned the importance of being thankful.
CHECK OUT THE AMC INSTAGRAM PAGE for more pics of what's been happening at our locations.
---