3 Signs Your Child's Teacher is Making an Impact
Let's give a shout out to all the teachers out there!
Without their efforts and education, our children would be at a disadvantage.
Teachers unquestionably have a demanding job, and their dedication and devotion shapes children's lives. As children blossom in the classroom, it is evident that their teacher is making a significant impact on their lives – both now and for the future.
Below you will find three surefire indications that your child has been positively affected by their teacher. It is a blessing to know that their days in the classroom are so successful.
They're Excited to Go to School
When a teacher is warm and welcoming, and the lessons are fun and interesting, children can't wait for another school day to begin. Kids who look forward to getting to school in the morning must have an incredible teacher who makes every day special. If your child can't wait for the weekend to be over, you know they've got a teacher who's terrific!
They Rave About Their Teacher Non-Stop
If your child shares the day's events and their teacher's name comes up often, you know they're fond of the person in charge of the classroom. It gives parents peace of mind when they know their child is in good hands with a trustworthy teacher who their child adores. You can ask your child about their teacher so they can rattle off the compliments!
You See a Change for the Better
Do you notice that your child has become more outgoing, extra curious, has taken on a new hobby, or is getting better grades? Give thanks to their teacher who may have had a positive influence over these changes. Someone to look up to is priceless, and children hold their teachers in high regard.
Thanks to all the amazing teachers who are making an incredible impact on the leaders of tomorrow. Your efforts, energy, and enthusiasm are appreciated, and your work doesn't go unnoticed.
What does your child love about their teacher?
For more information like this, please visit All My Children's blogs.
By: Melissa A. Kay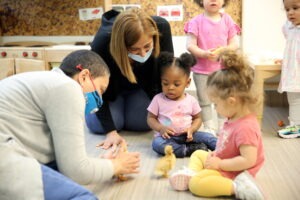 ---