Welcome Back to School!
It's Back-to-School Season!
We are so happy to welcome the children and staff back to All My Children for another wonderful year. The season is already off to a great start.  We're ready to make the most of what's to be an exciting school year.
All of our locations are in the best of spirits. The kids are learning and growing, catching up with friends, and meeting new ones. The staff is excited to educate and care for the kids. Parents can have peace of mind that their children are in good hands.
During the summer months, many of our wonderful teachers attended ECERS and CLASS training. This training increases their knowledge regarding classroom environment and social interactions. Thank you to our teachers who utilized their time to expand their knowledge and discover innovative methods to enhance the development of their students.
We'll keep you updated with AMC happenings all year long, with pictures of your precious children and info you're sure to enjoy.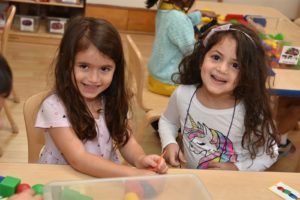 Check out more back-to-school photos on our Instagram page. @Allmychildrendaycarenyc.
From our Special Activities Dept:
Character Building at AMC is an educational initiative launched in 2018 by All My Children. The goal of this program is to help children understand and gain good character traits, morals and values. We all know that character is mostly developed while a person is very young, so this is an opportune time to focus on such goals.

These 'character building' units are universal values or character traits that we all want children to gain and need to be taught and embedded every day of the year. Nevertheless, a time is chosen when each character trait or value is celebrated, discussed and brought to life in the classroom. This in no way diminishes the importance of the daily focus on it throughout the year, rather it gives a time (or two) during the year when this character trait or value is celebrated and delved into in depth through discussing it, reading books on the topic and emulating those character traits and values.

These character traits are presented as units and are taught in conjunction with the school's curriculum. 

For example, one of the values that we emphasize is for children to have a positive outlook on rules and see how rules are useful and helpful – imagine what the world would look like without rules! 

Another trait focused on is for children to feel and express gratitude for all the wonderful things that they have and are given. This can be taught when learning about the world around us and how we should be grateful for our wonderful world.

The units focus on social lessons, with an emphasis on getting along with each other, sharing, taking turns and other crucial skills for social and emotional development, thus leading to a healthy moral society.

For questions regarding this initiative, please contact Shmuel Karasik at skarasik@amcearlylearn.com
After school programs @ the UWS 
We have begun our Learning Without Tears Reading Readiness Program as well as our Ballet, Yoga, Music, Chess, Robotics and Soccer programs!! We are looking forward to having a fun filled school year! Read more about each program…..
Dance with Joy (extra fee)
Email info@dancewithjoynyc.com to register and for more information.
Joy studied vocal performance at the University of North Texas and musical theater at the American Musical Dramatic Academy. She has been involved in most performance fields from TV, film, stage, commercial, and print. She is a part of both SAG-Aftra and AEA unions.
Don't just dance for fun, Dance With Joy!
Joy teaches our students ballet – "I want my students to dance for more than fun competitions or technique. I want my students to dance because the music inspires them and makes them happy, There are few jobs where you get to laugh all day and create imaginative play for children to explore music and dance." 
Chess at Three (extra fee)
For information and to register select  here
Chess At Three aspires to have children love chess with fun stories and colorful characters. Open up to a world of learning with their certified storytelling chess tutors. Classes and lessons are based around the patented Chess at Three Curriculum, utilizing interactive stories starring a fun cast of characters. Through these stories, children progressively learn to play and develop a love for chess.
What we do:
Our certified tutors teach children how to play chess
Fun stories, lots of games, sportsmanship, & "chessercises"
Lesson summaries emailed to parents after each lesson
Chess tournaments for our little chess masters
Proven Benefits:
Increase IQ & retained test scores
Enhance memory, arithmetic, & verbal skills
Boost critical thinking, self esteem, & confidence
100% of children we teach learn to PLAY & LOVE chess
Yoga and Music with Ms. Tracy (included in extended day at no extra charge)
Tuesday afternoons the children enjoy a class with Ms. Tracy as she alternates the weeks between yoga and music.
Tracy is the co-founder of Fiddle Foxes, a Movement and Music Program encouraging self-expression and creativity through song, dance and yoga. She offers a unique experience with every class by combining both classic children songs and original "Ms. Tracy" tunes inspired by and written for her students. Trained by Lara Hocheiser of Flow and Grow Yoga, Tracy takes the mindfulness based approach to both music and yoga and strives to make each and every class an expression of care.
Learning without Tears  (included in extended day at no extra charge)
Ms. Meghan administers this numerical and literacy program daily to our older children to prepare them for Kindergarten.
The importance of this program supports kindergarten readiness and effectively reinforces the building blocks of literacy and numerical awareness.
Get Set for School is a proven program that integrates play-based learning, music, hands-on materials, and active participation to help young learners develop physical, social-behavioral, language, and early math skills.
Developmentally Sequenced: Developmentally sequenced for empowered teaching and active student participation
Play with Purpose: Play-based, multisensory instruction specifically made for young learners
Research-based: Award-winning curriculum that integrates play-based and academic learning
Unique Pre-Writing Activities: Complete pre-writing program for future success. As a part of our afterschool enrichment program, we include the Learning without Tears Curriculum. Our program prepares children for kindergarten with a structured, play based curriculum with a full pre-writing program and materials that build critical skills such as early math and literacy. 
Get Set for School includes three programs designed to prepare children for school: Readiness & Writing, Language & Literacy, and Numbers & Math.
Proven Success: Children who were taught with the Get Set for School curriculum consistently demonstrated mastery of key skills at the end of the Pre-K year. They also scored higher and showed more growth than a control group of students.
The curriculum's explicit, modeled instruction with hands-on multisensory materials and active teaching strategies deliver improved results in Pre-K classrooms.
Kindergarten expectations are rising, and it is more important than ever to provide our youngest learners with the skills they need to succeed in kindergarten. In order to prepare your children, a multifaceted curriculum that not only covers all key learning domains, but does so in a way that is fun, engaging, and developmentally appropriate manner for all learners is necessary.  We offer the Learning without Tears curriculum as a part of our after school educational enrichment program.
Swan Kids Robotics (extra fee)
Register in school office.
Our Robotics Program consists of an interactive course that takes kids through the basics of robotic construction/design and continues all the way through more advanced stages of circuit building, alternative energy sources, and custom robots/machinery. Kids will see themselves as problem-solvers, programmers, & potentially part of a future STEM job field!
Soccer Shots
(extra fee)
For information and to register select here 
Soccer Shots is an engaging children's soccer program with a focus on character development. Our caring team positively impacts children's lives on and off the field through best-in-class coaching, curriculum and communication. Our coaches are the best-trained in the business. Our expert-approved curriculum is age-appropriate and aligns with childhood education standards. In addition we provide an exceptional customer experience and ongoing communication with parents.
COACHING: You can feel confident that the person coaching your child has met our strict coaching standards and has been trained to coach children in these age groups. 
CURRICULUM: Our program is created under the guidance of childhood education specialists, MLS and USL professional players, and experienced and licensed soccer coaches. Our curriculum has been aligned to New York Early Learning Standards. 
COMMUNICATION: You will receive a weekly summary of what your child learned at Soccer Shots. We proactively communicate any cancellations due to weather or other circumstances. Our staff understands the importance of timely, responsive communication. You can expect to receive a response to your questions within 24 hours.  
PROGRAMS 
MINI (2-3 year olds)
Soccer Shots Mini is a high-energy program introducing children to fundamental soccer principles, such as using your feet, dribbling and the basic rules of the game.
Through fun games, songs and positive reinforcement, children will begin to experience the joy of playing soccer and being active.

CLASSIC (3-5 year olds)
Soccer Shots Classic utilizes creative and imaginative games to focus on basic soccer skills like dribbling, passing and shooting.
We also highlight a positive character trait each session such as respect, teamwork and appreciation.
Focusing on individual skill, fitness and sportsmanship, each session provides an opportunity for children to be challenged through fun games and team competitions.
Children will also be introduced to tactical elements of the game as they prepare to play on competitive teams.
For more information contact Fay Brecher, After School Programs Coordinator, at fbrecher@amcearlylearn.com.
---