There's no reason to let a little rain get you down. There is plenty to do with the kids even when the skies are less than sunny. Simply bring the fun indoors and nobody will say rainy days are bringing them down. Save these 3 fun activities for the next rainy day.
Indoor Scavenger Hunt
Turn your home into an exciting search area for an indoor scavenger hunt. Give each child (or just one kid can play solo) a list of items you've hid around the house or things that are already found in various rooms. The list could really contain anything, but preferably, choose things that are small enough to fit into a bag you'll provide beforehand for collection. A sample list might consist of a refrigerator magnet, a drawing from school or day care, a sock, a cat toy, an apple, a washcloth, and a spatula. When all items are located, the child gets a prize. Once the rain dries, you can continue the game outdoors with a nature-themed hunt.
Kids' Tea Party 
Host a fancy kid-friendly mid-afternoon rainy day tea party. Dress up in nice clothing and set the table with pretty tea cups and decorative dishes and silverware. Serve iced or hot tea, juice, or hot cocoa. Make bite-sized finger sandwiches with the crusts cut off and serve mini-scones and mini-muffins. For dessert, make platters of assorted cookies, chocolates, and fruit. It's a simple lunch, but once you call it a "tea party", the kids can make an exciting afternoon of it. You'll be impressed with everyone's proper behavior and everyone will forget the soggy rain outside.
 Movie Matinee Day
Stay inside and cuddle up on the couch with popcorn and other snacks and spend the gloomy day in a movie fantasy world. Pick 2 or 3 kid-appropriate flicks and dim the lights for that movie theater effect. After the films are over, everyone can give their reviews. Plan for the next rainy day by agreeing upon the next movies you'll watch. Everybody will think movie day deserves 4 stars and 2 thumbs up!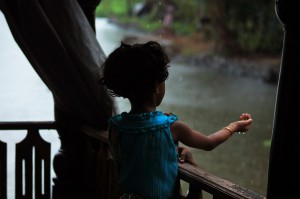 What do you do with the kids on rainy days? We'd love to share your great ideas with our readers. For more info like this, head to All My Children.
By: Melissa A. Kay