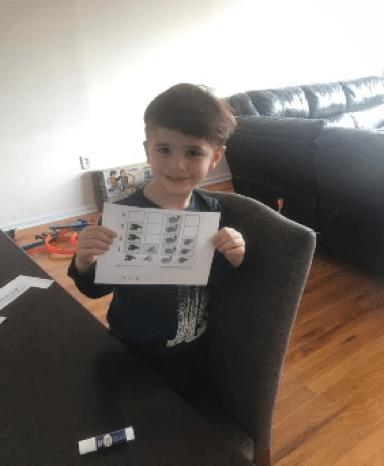 Jewel Avenue Spring Happenings
Lots of hard work and fun has been going on for our Jewel Avenue students as they get used to remote learning.
Mora Leah's classroom always loves listening to different counting books and interactively answering questions about the books. They are following instructions as they complete the activities associated with the read aloud.
Books And Lessons:
Pizza Party!
"I Want Pizza" by Chris George from Epic books is a fun one. The kids created their own "pizzas" using different colored construction paper, scissors, glue, and paper/plastic plates. They were given instructions to choose three shapes. They then counted that shape and wrote the number of the shape they counted on the back of the plate. Next, they then wrote which shape had the most and the least of on their pizza.
Ocean Life
We're loving, "Over in the Ocean: In a Coral Reef" by Marianne Berkes from Epic books and counting the different ocean animals in the book. The children in Ms. Leah's class were given an ocean animal counting graph sheet that required them to cut out and glue the same ocean animals onto a bar graph. The children then wrote which animal they had the most and least of on the bar graph they created.
Feeling Fine
"F is for Feelings" by Goldie Millar & Lisa A. Berger from Epic books is a great read. The children were encouraged to draw how they felt that day. The children were asked to draw a card for a lonely neighbor or friend after finishing the book.
Happy Days
We loved reading the book, "When I Am Happy" by Bobbie Kalman. The kids were asked to create or draw something that makes them happy, or a happy memory that they remember.
More Learning
Students are making use of supplies that will enhance their learning in various domains such as literacy, math, and fine motor. They are very excited about using them!
The children are busy and productive during these weeks. They are learning and using all of their academic resources.
Here are some photos of the Jewel Ave. kids in action:
---