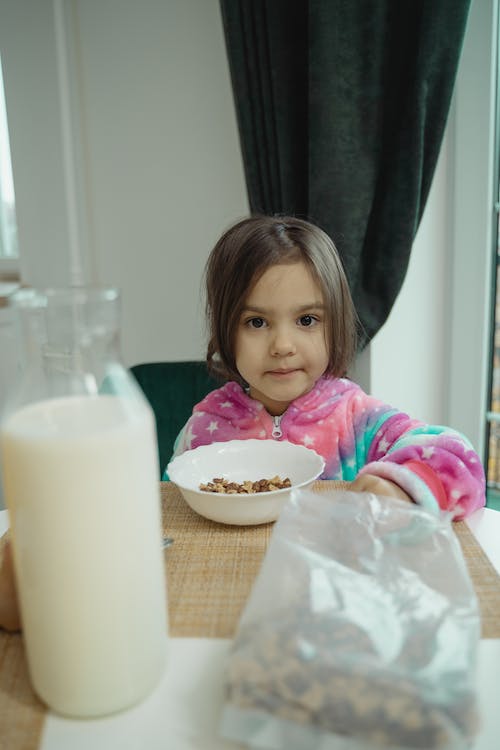 Cereal 2.0 – Wake Up Your Morning Menu!
Children of all ages are generally pleased with a bowl of cold breakfast cereal with milk in the morning, and parents love it, too – it's easy and convenient. But the same breakfast day after day can get dull. You don't have time to scramble eggs or flip pancakes on a rushed school day morning, so how can you spice up the breakfast boredom?
There's no need to get fancy or settle for drive-thru fast food. You can stay on the cereal route with a few tweaks. Shake up the morning cereal routine with these simple updates. Kids' cereal will never be the same!
Milk Magic Makes Breakfast Cereal Special
Add a little sweetness to your kid's cereal with flavored milk. Vanilla, chocolate, and strawberry are favorites. You'll probably want to serve a plain (not sugary) cereal with flavored milk to avoid a sugar high! Consider bran flakes, Cheerios, or plain puffed rice or corn. This might be best for a special weekend treat.
Trail Mix Fix for a Nutty, Crunchy Breakfast Cereal
Try a "trail mix" breakfast by incorporating some classic trail mix ingredients into your child's cereal bowl. Add a mix of nuts, seeds, dried fruit bits, carob chips, and yogurt-covered raisins. The different textures make every bite even better than the last.
Keep it Crisp – No Soggy Cereal Here!
Instead of using milk, serve your kid's favorite cereal over yogurt, cottage cheese, or frozen yogurt. Mix cereal into applesauce or serve it over a fruit salad. Some kids like their cereal dry, making it a convenient on-the-go breakfast if you're running late. Pack some in a zip bag, and you're out the door in no time!
Breakfast Cereal Combos
Combine two or more types of cereal in the same bowl when the kids can't decide which one they're craving. This is also an excellent way to combine a healthier cereal with a sweeter favorite. The mix-and-match fun can create dozens of cereal combinations.
How do your kids like their cereal? Is cereal your usual go-to breakfast?
For more information like this, please visit All My Children's blogs.
By: Melissa A. Kay
---