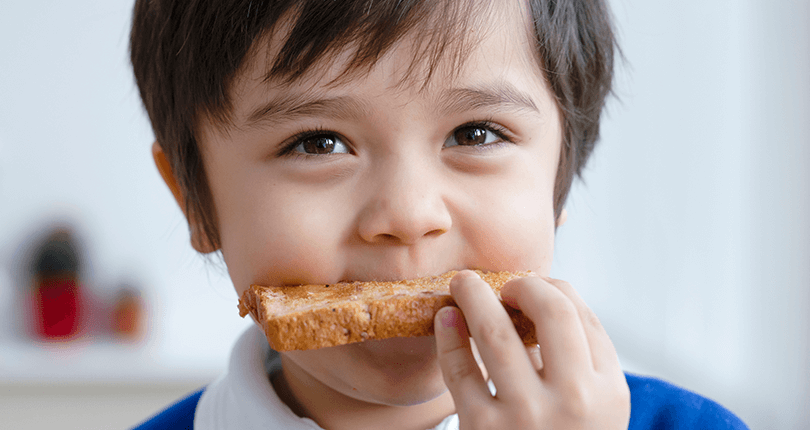 A New Take On Toast
During the morning rush, toast makes for a quick and easy breakfast for the kids.
Aside from a bowl of cereal, toast is usually a kid-pleaser, topped with butter, cream cheese, jelly, or jam. Kids gobble it up and they're good to go.
But after a while, toast can become boring. Variety is the spice of life, so here are some new takes on toast toppers that'll have the kids excited for breakfast. They don't take too long to prepare, so you can still manage the morning mayhem without feeling flustered.
PB & B
Take your toast up a notch with peanut butter (or any other nut or seed butter), sliced bananas, a drizzle of honey, and some cinnamon sprinkled on top. You can serve open-faced or like a sandwich. With a cold glass of milk, this sweet treat is will keep them full 'till lunchtime.
Hummus
Serve something savory by spreading a nice layer of hummus on the toast, topped with diced veggies or thinly sliced cucumber, a slice of cheese, or some sliced olives. You can also cut the toast into "soldiers" (thin strips), and the kids can dunk them into the hummus instead. Serve with tomato juice and your morning meal is complete.
Cottage Cheese
Cottage cheese is a great source of protein, so pile on a generous scoop and smooth out over the toast. You can stir in some diced pineapple, raisins, sunflower seeds, or seasonings. Cottage cheese can go savory or sweet, so switch things up every time you serve it. Try to sneak in some veggies by stirring in some canned spinach.
Pizza Toast
Kids love pizza, and when they can have some for breakfast, the day gets off to an outstanding start. Top a fresh slice of bread or two with some marinara sauce and shredded mozzarella. Pop into the toaster oven for about 5-7 minutes (keep an eye on it), and serve. You can add some pizzaz with strips of green pepper, sliced mushrooms, or sundried tomato slices.
How do your kids like their toast? There are endless ways to serve it, and your ideas are welcome!
For more information like this, please visit All My Children's blogs.
By: Melissa A. Kay
---